City Games™ tour moved to Montenegro and today, on the first challenger in Tivat, Galioti and Šotokuci, both from Tivat, qualify for the Montenegro final. Galioti played so well tonight, winning three out of six games and coming also the second and twice third one (53 points). The second placed team today was still current champion of the national and international final, which took place last September in Biograd na moru, Casa Igalo team from Herceg Novi. They were 10 points behind due to bad performance in donkey race, which brought them 0 points. The third place, which today can be called the lucky third place, because it still leads to the next stage of competition, took Šotokuci (36 points) and the team is going to their first national final.
Tivat brought to us the great atmosphere with many spectators which crossed fingers for their favorites. Five teams came from home town – Tivat, so they had really great possibility to choose who they like the most. The guest team today came from Herceg Novi – Casa Igalo and they did not influence the final score and decision who qualifies for the final. Six teams, including best three, yet Sportikus, Porto Montenegro and Savjet za sport, played six games – flying water polo, prosciutto, tourist rescuing, alka, donkey race and tug of war.
The visiting team Casa Igalo came to play the games, as captain of the team said, not to compete and they really did that: "We are not here with the strongest team, but in the final we will be. I cannot say what will happen there, but of course, we want to win. Doesn´t everybody want that?"
Competitors from the winning team Galioti were also satisfied with their performance, and were clear about their goal in Herceg Novi, where the national final will be held: "Igalo Casa is always very strong, but today we were better. We entered to the final on the best possible way and, as I said, when we come to the games, we always want to win. So we will also try to win in the final and enter to the international part of competition again."
Šotokuci, the team that every year changes their innovative name in the old fashion way (they try to bring back the beauty of their old language), played alka perfectly, winning that game with 20 points, while every other team collected 15 or 14 points. They were also constant enough in every other game so they quite easily took the third position and more than fairly continue games in their first national final: "We are more than satisfy with our performance today and in the final we will like to play good again and if we are going to be also the third, that would be perfect."
After Montenegro little tour, the City Games will now continue the road to Serbia, in two days our host city will be Čačak.
RESULTS:
1ST place: Galioti, Tivat – 53 points (dark blue)
2nd place: Casa Igalo, Herceg Novi – 43 points (red)
3rd place: Šotokuci, Tivat – 36 points (green)
4th place: Sportikus, Tivat – 30 points (light blue)
5th place: Porto Montenegro, Tivat – 25 points (yellow)
6th place: Savjet za sport, Tivat – 20 points (orange)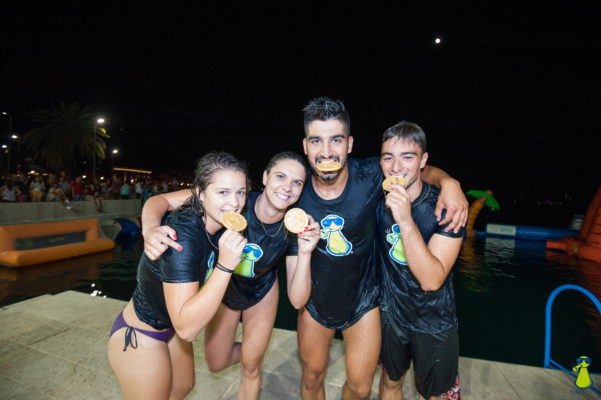 Foto: Jan Mastrović