Serbians, known for their hospitality, this night once again proved, how great they are. Čačak was the first home city of this year´s City Games Serbian tour – the first national challenger took place in the swimming pool. And already gave us a spectacular show. Current Serbian championship Kragujevac took the first place, while home team Čačak and Trsteničani from Trstenir came second and third.
Fully crowded tribunes has been witnessing the great performance of especially top three teams and strong fight until the very last game, which gave the winner. It´s impressive that Kragujevac won five out of six games and it´s even more impressive that other two teams was so close behind, they could celebrate the victory only after the last game. Kragujevac showed great performance in flying water polo, having more than 100 points more than the second one, but already made mistake in the second game, tourist rescuing. Čačak won that game and took the lead. The third game, water basket, Kragujevac was again much stronger than others, also due to great swim of their women competitor, but other teams was quite the same, so the seconds were decisive.
In water alka – this game was played for the first time in 2017 City Games tour, three teams finished with same result and took 10 points for victory, Čačak team was still in the lead. Than it was prosciutto turn where we could enjoy in perfection of the Kragujevac player that is, of what we saw today, probably one of the best competitor in that game: "I trained swimming for 9 years, I also go to gym so this game is made for me. I respect all the competitors but I believe I don´t have decent opponent in this game." Kragujevac took the lead, Čačak, taking only 2 points, fell to the third position and there was the last games – paddle that was decisive. Kragujevac was stronger of Čačak in the final and took the first place with 57 points, while Čačak was second with 48. All the time tight behind was Trsteničari from Trstenir and finishing with only one point behind – 47 points.
This challenger gave us first two Serbian finalists, which are Kragujevac – they will defend the national champion´s title, and home team from Čačak, which gave great pleasure to awesome spectators. It is interesting that one of the trainer of the home team – they have many of them and they trained really hard for the Games – was a part of the project, originally named Jeux Sans Frontieres (Games without borders) and represented Jugoslavija team in the final in Italy in the year 1982 – Srđan Filipović said: "These two projects are similar and different at once, but they are both great. It courage people to play sport, to compete in nonprofessionally way. City Games are more than just games, they are more than just playing. After final whistle it´s not over, the teams after the Games have fun, they are hanging out, they meet new people and that counts a lot – it is the friendships that stay."
Kragujevac team: "We are still current champion and even though today we are not here with the strongest team – our two competitors today took the first place in the world cup in triathlon, we still brought strong team and we expected to win. We made mistake in one game and that was only because our tourists are so beautiful that our competitor got confused and made mistake. Anyway, we are young team, we desire for a victory and here it is. In the final we will be even stronger, our goal is to win and also took medal in Biograd na moru."
Čačak team: "We are really satisfy with the second place, we worked really hard and went for a first place but didn´t make it. We are still more than happy to qualify to the final, this is the most important. We will now continue with trainings and we hope for the best in the final."
Trstenik team: "We are happy with everything today – our performance was good. We didn´t practice at all so we have to be satisfy. Last year we were a part of the Serbian´s final and not qualifying is the only thing today that didn´t bring us joy."
RESULTS:
1st place: KRAGUJEVAC, Kragujevac – 57 points (red)
2nd place: ČAČAK, Čačak – 48 points (dark blue)
3rd place: TRSTENIČANI, Trstenik – 47 points (yellow)
4th place: AJKULE SA ÐETINJE, Užice – 20 points (orange)
5th place: BOSONOGI ZMAJEVI, Čačak – 19 points (light blue)
6th place: DELFIN, Gornji Milanovac – 12 points (green)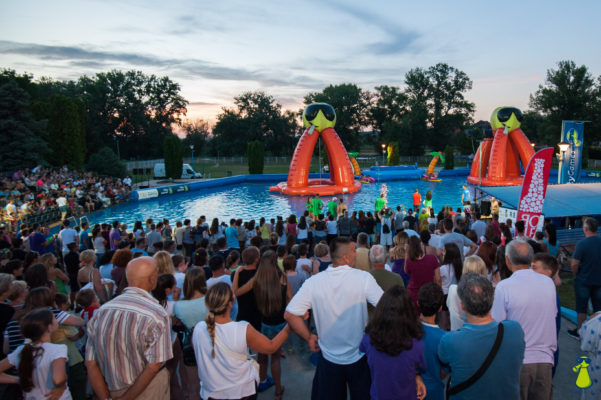 Foto: Jan Mastrović