City Games™ are a sport and entertainment event organized during summer months with the goal of broadening the tourist offer and promoting companionship between cities and countries.
City Games™ are organized as a series of competitions beetween teams that are representatives of their cities. Due to its diversity, the project is intended to suit all generations.
After eight years project gained more and more popularity on the international scene, and we are proud to announce that now we have regional representatives in Slovenia, Serbia, Austria, Hungary, Montenegro and Italy, where an increased number of competitions is expected in the future. Thus we were compelled to change the original name "Adriatic Games" to City Games™. The ninth season will bring us new entertaining disciplines, new countries and new media platforms that will secure more visibility for the project and its partners.
The 2018. City Games™ international finals will be filmed and produced as three 70 minutes dynamic TV shows broadcasted in 12 european countries with national coverage that will present City Games™ to approximately 12 million viewers!
GOALS
Creating a dynamic TV show broadcasted on channels throughout Europe.
Encouraging cooperation between countries through friendships between teams.
Promotion of tourist, cultural and economic activities between cities from EU member states as well as countries in the region.
Promotion of autochthonous souvenirs and products.
Educating young people about cultural heritage and tradition of their region through interesting games and activities.
WHAT GAMES ARE WE PLAYING?
Various games and disciplines are the foundation of this project. They are designed with purpose to entertain, educate and inspire as well as to promote common values and respect different traditions. They are also designed to be modern and attractive for competitors, event audience and broad TV public.
WHERE ARE WE PLAYING?
At the very beginning City Games™ mainly used seaside promenades (rivas) as sporting arenas. However, as the project grew, so did the challenges as to where all these games can take place.
So in addition to rivas, the games are also being organized in indoor and outdoor swimming pools as well as on lakes.
Almost every town has a special place suitable for our caravan to disembark and prepare a City Games™ arena. Season after season we are discovering new sites and places for the games. We can proudly say that we are very adoptable and have tons of expirience in locations scouting.
During the past several years City Games™ were organized 278 times in more than 100 different locations!
NUMBERS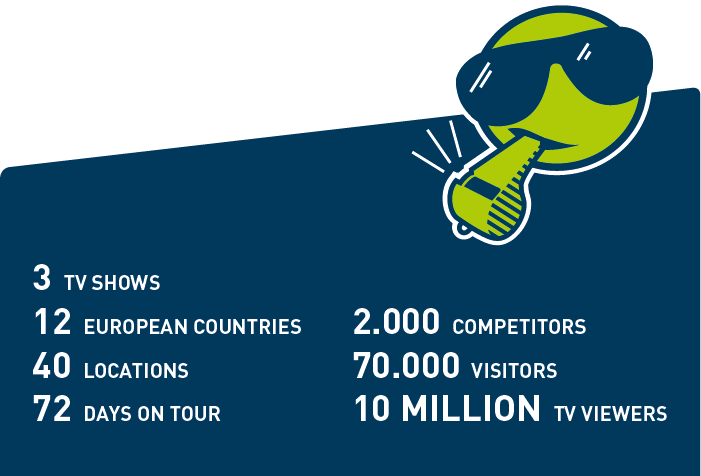 CITY GAMES™ AND OUR HOST CITIES…
Without our wonderful hosts our project couldn't grow for nine seasons in a row. Therefore the cooperation with them is always based on a partnership relation.
During the past 19 years, since our agency beginings, it is almost impossible to find a place in the Alpe Adria & Balkan region that we weren't in contact with. We can proudly say that we have more than 100 cities as our satisfied clients with whom we cooperate on a regular basis.
The 2018. season has brought us a dozen of new host cities. The successful cooperation is confirmed with many facts – more and more competitive teams, numerous visitors and letters of recommendation from our satisfied partners.