Due to a little wind that accompanied second event of Croatian qualification, we have been witnessed to another excellent event of City Games. The winning team – Plina Istočna from Ploče – conquer the games with astonishing 57 points. The battle for second place was far more interesting and tight until the last game and was won by team Ombla from Komolac with 38 points, while the third placed team was Majkovi from Majkovi.
Great crowd today, which already came together at 6 p.m when junior games had started, could enjoy in the great performance of seven very good teams in five different games – flying water polo, tourist rescuing, water basket, prosciutto and tug of war. The great opening succeeded to the Ombla, but their attention and a bit of luck fell in the next games. Although they managed to get back up in last two games and took the second place which lead them into the challenger that will take place in Brela in the end of July. Mihaela Pavlović, the captain of the Ombla team, was really excited about their performance: "We are here for the third year – the first year we were the last, last year we were the third and today we are the second. I really hope this trend will continue. I have just realized we qualify so I am even more excited about that. In our team we all are connected with some kind of sport, that is the reason, I believe, that we are pretty good in the games."
The third placed team Majkovi was really fast in rescuing of their cold tourist and also played very constantly all games which brought them 35 points. The team said that is not victory that inspires them in City Games, but having fun and spending some beautiful time together with friends: "But we also realized that we are better and better each year so maybe next year we could go for a win."
That lead us to the astonishing winning team Plina Istočna from Ploče, of which member Ivan Grgurinović said: "We did not came with the strongest team, we actually made a team only few hours before we came here so we did not expect much. But the most important thing in playing these games is being experienced and, as we are, we managed to play really good. For the next phase of competition we will train and we will come with even better team. And I can say – we will for sure do everything in the final to beat team from Krk, because we would like to get a picture of drinking coffee in Belgrade." Let´s remember – last year in one of the Croatian semifinals team Day Mare from Krk and Plina Istočna from Ploče served to us an amazing performance which finished with a win of Day Mare by only one point. So we have already two teams (Plina Istočna and Cesarica) that honestly said they want to beat the current Croatian champion and that is just the great announcement of the next events that are coming.
We have to say that even others team played great tonight, especially two home teams – Zaton Water Sports and Rekreativci which were part of the City Games for the first time. First games they needed for warming up and for getting familiar with the rules, but once they got it, they came up stronger. In conclusion – we are really satisfy when after the event we see happy faces: That is what our project is about!
RESULTS:
1ST place: Plina Istočna, Ploče – 57 points (yellow)
2nd place: Ombla, Komolac – 38 points (green)
3rd place: Majkovi, Majkovi – 35 points (orange)
4th place: Zaton Water Sports, Zaton – 29 points (red)
5th place: Rekreativci, Zaton – 20 points (dark blue)
6th place: Maritimo, Župa Dubrovačka – 14 points (light blue – there were two teams in that colour)
7th place: Gulaši Ston, Ston – 12 points (light blue – there were two teams in that colour)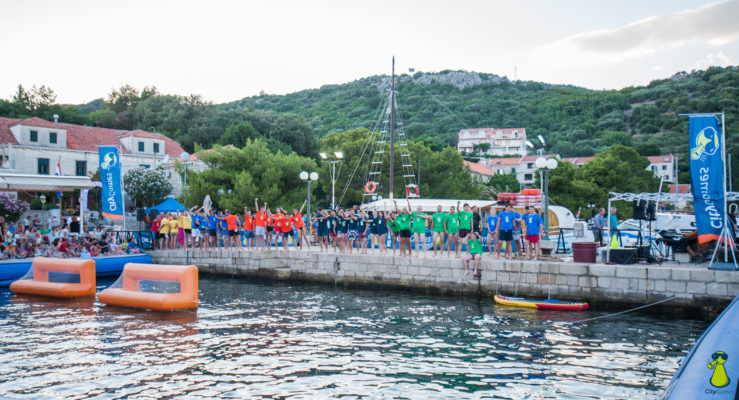 Foto: Jan Mastrović